Customer Reviews
10/18/2019
Janice B.
Canada
Feeling Good!
I'm really loving my sippable bone broth. I'm making an effort to replace the daily coffee after coffee with cups of broth and I'm really happy with the results. I'm feeling, well, healthier! I'm also finding cravings for junk food, during the day, are gone. Delivery was excellent as well. I'm am absolutely spreading the word about this company.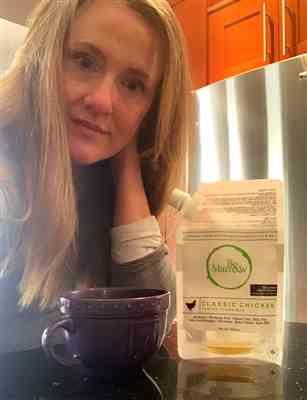 Great supplement
I relied on these broths during my first trimester of pregnancy when I was extremely sick and tired. I was hardly able to keep food down and these were my savior. I am now stocking up for postpartum/healing and breast feeding. So grateful for such amazing products! Definitely would recommend to anyone looking to improve their health and overall wellness, and they also taste great as well.
SL
05/14/2019
Suse L.
Canada
Brothing made easy
I ordered the multi pack to sample the different flavours and they were all delicious! The chicken was my favourite and we really enjoyed using the Pho Real for a quick, easy and healthy meal at home! Thank you for the speedy shipping and for making this brothing journey so simple!
EC
04/29/2019
Elena C.
Canada
LOVE this stuff!
I invested in the combo pack and while I liked everything, I think I am now addicted to the Pho! So simple, so nutritious and absolutely so delicious!
02/13/2019
Paige G.
Canada
Exactly what I needed
Ever since becoming pregnant I've been extremely sick and tired. I'm such a health food person and have found myself craving really bad foods, I was concerned I wasn't getting enough essential nutrients during my first trimester because of the sickness. I purchased a multi pack and it has seriously been a saviour this first trimester, especially with how cold it has been outside! I will definitely be purchasing again, they're so tasty and great to use in cooking. I've been just sipping mine everyday as a supplement morning and evening to help with the nausea.